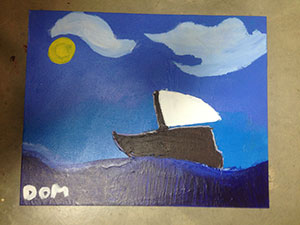 ages 6-10
Tuesdays and Thursdays
3:00-3:50 – sign up for one day or both.
September: Going Places!
Tuesdays, Sept. 1, 8, 15, 22 ($40)
Thursdays, Sept. 3, 10, 17, 24 ($40)
both days: $70
In this class we will visit places imaginary and real, traveling by train, plane or boat…or by dragon, flying carpet, or on the back of your favorite animal. We will draw, color paint and more depending on where you want to go (and the materials you have available at home).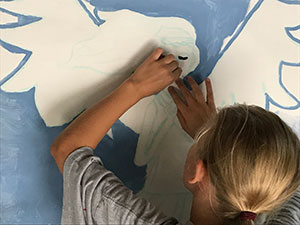 Tuesdays Oct. 6, 13, 20, 27 ($40)
Thursdays Oct 8,15, 22, 29 ($40)
Both Days $70
October: Costumes
In this class we will brainstorm costume ideas, draw them out, color them and create plans to actually make them. One day, when we are back in the studio, perhaps we will make them together. But after this class, you will have a plan to make your own unique costume at home.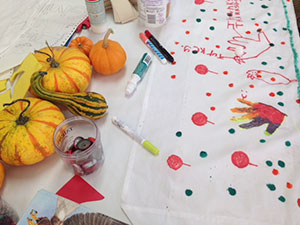 Tuesdays Nov 3, 10, 17 ($30)
Thursdays Nov 5, 12, 19 ($30)
Both Days $50
November: Drawing and Painting the Autumn World
Celebrate fall by drawing and painting the autumn world as it unfolds around you – the different shaped fruits, vegetables, gourds and squashes, the multi colored leaves as they fall from the trees, the windy sky and the changing weather.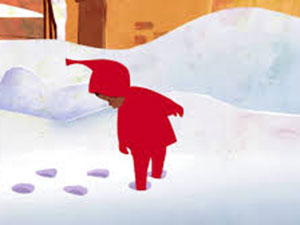 Tuesdays Dec 1, 8, 15
Thursdays Dec 3,10,17
Both Days $50
December: Stories in the Snow
Do you like to make up stories? Do you like to draw and paint? Then this class is for you! Even if there is no snow on the ground, we will use our imagination to create a snowy day story. Shadows, paw prints, tracks, lumps and bumps that appear in and under the snow all have a story to tell. What will you find? What story will you tell?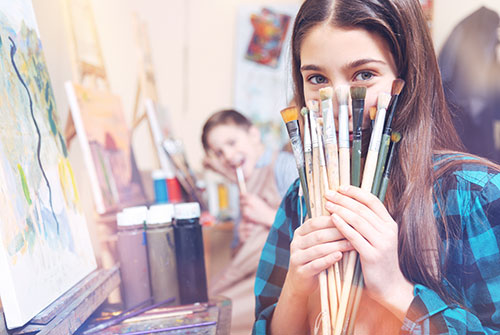 summer/fall 2020 classes for Middle and High School Students
Creative Connections – FREE!
Artist Trading Cards & Beyond
Tuesdays on Zoom
5:00-6:00 pm
Make art, share ideas and stay connected
Recommended for ages 11-16
Create artist trading cards alongside others – free and ongoing through the summer
Tuesdays, 5:00-6:00pm for Middle & High Schoolers
We hope this can be a fun and thoughtful creative group time for all. We are asking those who join us to try and create at least one artist trading card that reflects on your personal experience, feelings or thoughts during this time of the pandemic You can be as literal or abstract as you want. Our goal is to bring people together by responding creatively to this uncertain period of time.
We will continue this project through the summer and perhaps into the fall. There is no need to "finish" a card in one meeting. You may find you work on one card for many weeks, work on several at once or just doodle and sketch on regular paper which can later be integrated into a card.
We will not physically trade our cards. If you'd like to, you can trade or mail your cards to each other, but we will leave that to you. Instead, if you choose, you can send us photos of your finished creations (front and back). We hope to put them together in a small book.
Guidelines:
Consider both sides of the card. One side can represent looking inward. The other side, can represent reaching out, reconnecting. Traditionally cards are small, about 2.5"x3.5." But yours can be any size (small is a relative term).. We will condense them to a more or less uniform size in the book. They can also be dimensional for you 3-d people out there!
Materials:
For the actual card use card stock, heavy paper, or an actual playing card or card from a board game that is approximately 2.5″ x 3.5."
For creating, anything goes: paint, pencils, pens, colored pencils, markers, stamps, ribbon, fabric, old magazines, notes, lists, doodles, recipes, photos, thread, hole punchers, scissors, sparkly glue, duct tape, masking tape, scotch magic tape (you can draw on magic tape), … you get the idea!
Click here for more information on artist cards.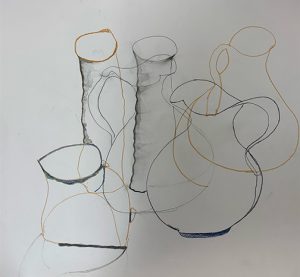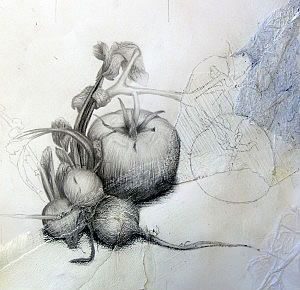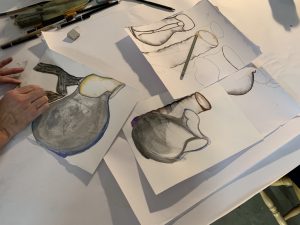 Summer/Fall 2020 online classes for adults
Wednesdays, 5:00-6:30pm
My goal for these classes is to help you find the connection between drawing what you see and drawing what you feel. We are all natural mark makers and we have a lifetime of collecting images and ideas about what we see. Those all have a place in drawing. They give us our point of view. But we also have the ability to see things as if for the first time. That is the place I want to take you. And with that, to the basic hows of translating what we see into marks, forms and compositions.
Fall Classes
Basic Drawing Skills (adults)
Wednesdays, 5:00-6:30
September 23 – November 11, $200 
Each week will emphasize a specific drawing technique that encourages you to see your everyday home environment in new ways. Using the home as both studio and subject, we will explore dynamic composition, negative/positive space, cross hatching, expressive line, measuring angles, scale and abstraction.
Each class allows time for review of the previous week's work, focused drawing and feedback. Additionally, Page is available for one-on-one feedback.