adult art classes – spring 2023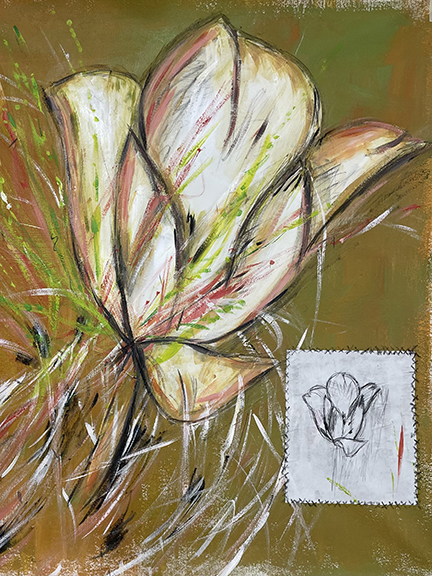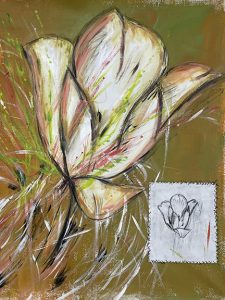 Jane Enterline, "Tulip," mixed media painting from Surface & Depth class, fall 2022
Exploring your Creative Process
April 5-May 3
5:30-8:30 pm
$250/ 5 classes
$30 materials fee
Ask questions, take chances and explore your creative process in a fun, supportive and dynamic studio environment. In this 5 week class you will develop a dialogue between your ideas (or subject) and your artwork.  You may be surprised by how your ideas will evolve and inform the process and materials you use. Each participant will move in their own direction and at their own pace.  Paint, draw, collage or mix them all together! This class is appropriate for all levels of experience.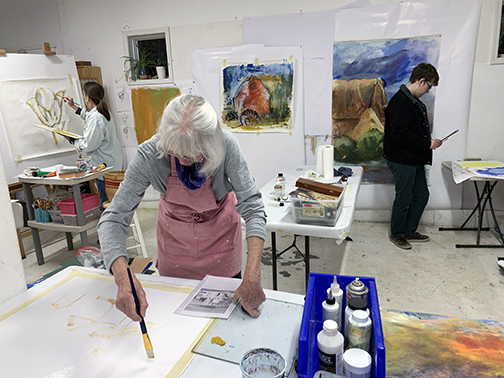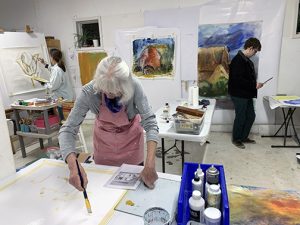 Wednesday Evening Guided Open Studio 
The studio is open Wednesday evenings for Guided Open Studio when there is not a class.  This spring, those dates are:
March 15, 22 and May 10, 17, 24
5:30-8:30 pm
$40/evening
sign up only for the days you can come
open to all painting, drawing and collage mediums
Explore your ideas and your medium of choice in a supportive studio environment. Immerse yourself in a long term project or dip into new and experimental processes. Each evening will begin with a group "check in" to share ideas and work in progress and an opening exercise to loosen up! There will be a sustained period of independent work time followed by friendly sharing and feedback. Page will work individually with everyone as needed and will be there to answer questions, offer feedback, help with materials and technique and, of course, give out nudges of encouragement.
Open Window Studio supplies: paint brushes, palettes, water containers, rags, and basic drawing, painting and collage materials (to supplement or introduce)
Participant supplies: paper and/or canvas, paint and drawing materials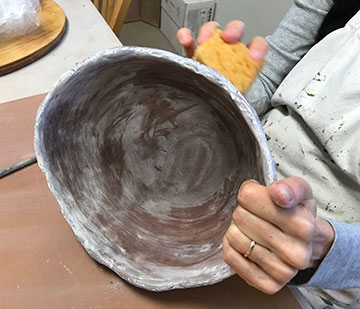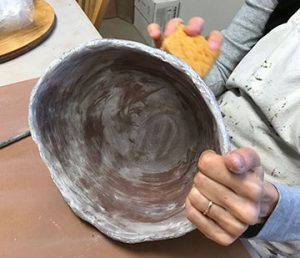 Friday Evening Clay Studio for Adults
1/20, 1/27, 2/10  6:30-8:30, $90
Join Jill in the studio to unwind and make art with others.  This three class series will allow you to dive deeper into your work and create more intricate pieces.  Instruction will be provided as needed in basic hand-building skills and techniques for making sculptures.
Each month the clay studio will offer a theme. January's theme is ANIMALS! We will be inspired by spirit animal sculptures, functional pieces with animal embellishments, and pieces with animal images.  Once our pieces are glazed and fired, students will have the opportunity to add mixed-media elements (clothes, accessories, jewelry). Of course, students are always welcome to make anything they choose during class. The themes merely serve as invitations for inspiration.
*price includes materials and firing
*We welcome participants who want to bring a non-clay project —2D and fiber arts.  Please email Jill to inquire about discounted rates for this.
*8 clay students max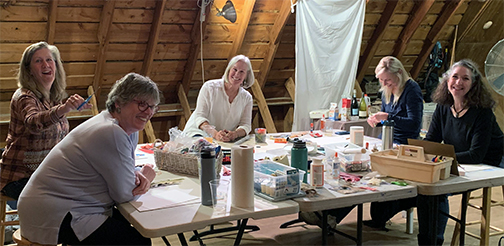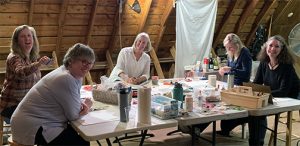 Schedule
 a private Open Studio with Page 
Looking for some time and space to paint, draw or just create with others?  Contact Page to put together an evening or morning of art making with friends.