Kids' Classes
Homeschool classes meet Thursday mornings at the studio – It's never too late to join!
After school classes meet Thursday afternoons at Bear Creek Elementary School – It's never too late to join!
Creative Art Studio
for Homeschoolers, ages 7-10
November 4 – December 9 (5 classes)
9:30-11:30 am, $125
Nature and imagination are the inspiration for this series of classes for homeschoolers. All classes are guided by the interests of the students and the group as a whole. Technical and conceptual skills are taught as part of the creative process. We work in a variety of mediums including paint, pastel, pencil, collage and multimedia. The class is dynamic, interactive and fun!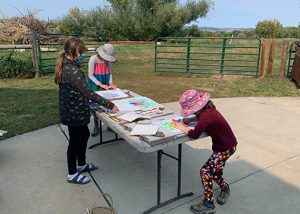 Color-Shape-Create
Bear Creek Elementary School
(Students from all schools are welcome).
November 4 – December 16
3:05-4:25, grades k-5, $120
Discover the possibilities and the endless surprises of color and shape. Geometric and organic shapes, color interaction, negative and positive space are just a few of the art building blocks that will be taught as you collage, paint and sculpt with color and shape!
This class is offered through Lifelong Learning. Find it in the "Creators" section in their online catalogue.